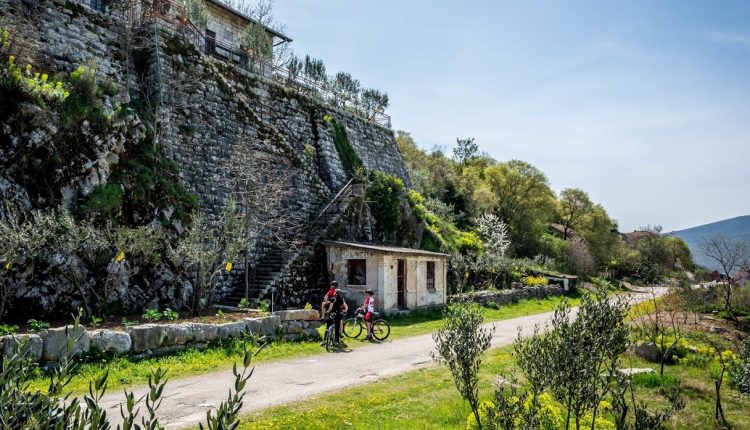 INFORMATION ABOUT CIRO
The historic narrow-gauge railway with a steam locomotive runs from Mostar along the Neretva River, through Čapljina, Popovo polje, Ravno, and near Ivanica, crossing the border with Croatia all the way to Dubrovnik. Construction of the railway began in 1898 and ended in 1901. During its existence, Ćiro connected places in Herzegovina and brought them life, and today the railway has been reconstructed into a bicycle path.
The Austro-Hungarian monarchy, which ruled the territory of Bosnia and Herzegovina at the end of the 19th and the beginning of the 20th century, built a network of narrow-gauge railways (track width 0.76 m). The railways were built primarily as strategic military facilities and they connected the southern Adriatic ports with cities in the hinterland and with Central Europe. The railways in Herzegovina were built as part of the Southern Railway, and the first section of that railway from Metković to Mostar, with a length of 42.4 km , was put into circulation on June 13, 1885. year, while the line from Gabela to Zelenika in Boka Kotorska (Montenegro) is 155.5 km long, with branches from Hum to Trebinje (16.7 km) and Uskoplje to Gruž in Dubrovnik in the Republic of Croatia (16.5 km). , put into operation in 1901. The narrow-gauge railway served people, connecting countries, regions, peoples and cultures. For the peoples from these areas, they were lifelines, they enabled them to have a better life and all kinds of progress, and they left a trace of civilization in the places through which Ćiro drove, roared, beat, whistled and let off steam for decades. he called the trains pulled by a steam locomotive gemišteri (mixed trains), šnelczug (fast trains) and personal (passenger trains). The nickname Ćiro was imposed before the very abolition of the narrow-gauge railways, but it remains recognizable among the people even today.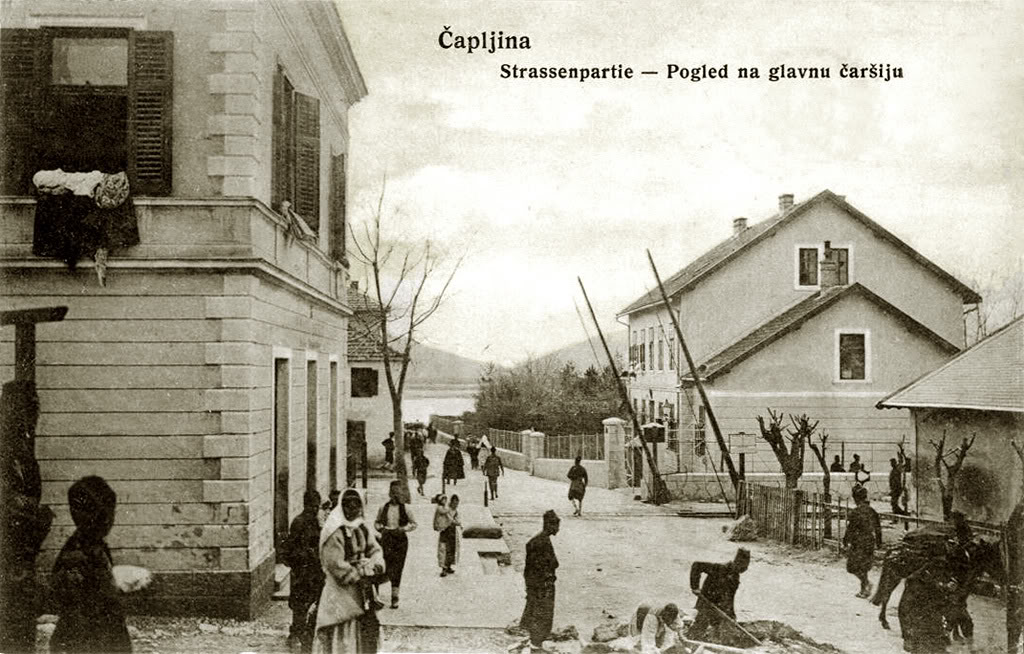 The narrow-gauge railway or narrow-gauge railway Gabel - Zelenika was discontinued in 1976. During its existence, the narrow-gauge railway changed five state regulations.
SHORT INFO DESCRIPTION OF THE TRAIL
The excursion starts in Mostar, where a visit to the Old Bridge is a must, where you can drink Bosnian coffee or even have breakfast with a beautiful view of the Old Bridge.
After visiting the Old Town in Mostar, cycling towards Blagaj follows, where we actually get off the original Ćira route, but Blagaj is a beautiful destination to visit and that's why we included it in our section. After visiting Blagaj, we cycle through beautiful sections through local villages along the Buna river all the way to the place where the Buna flows into the Neretva, when we return to the Ćira railway again. Here we continue cycling along the right bank of the Neretva river through local villages where traffic is almost non-existent until Čapljina, where we have to turn left over the bridge to visit Hutovo blato and Počitelj, two beautiful destinations that we definitely recommend and consider a must-visit.
Please note, these two destinations are not plotted in the GPX route offered below in this article, so we recommend that you contact us via email for instructions..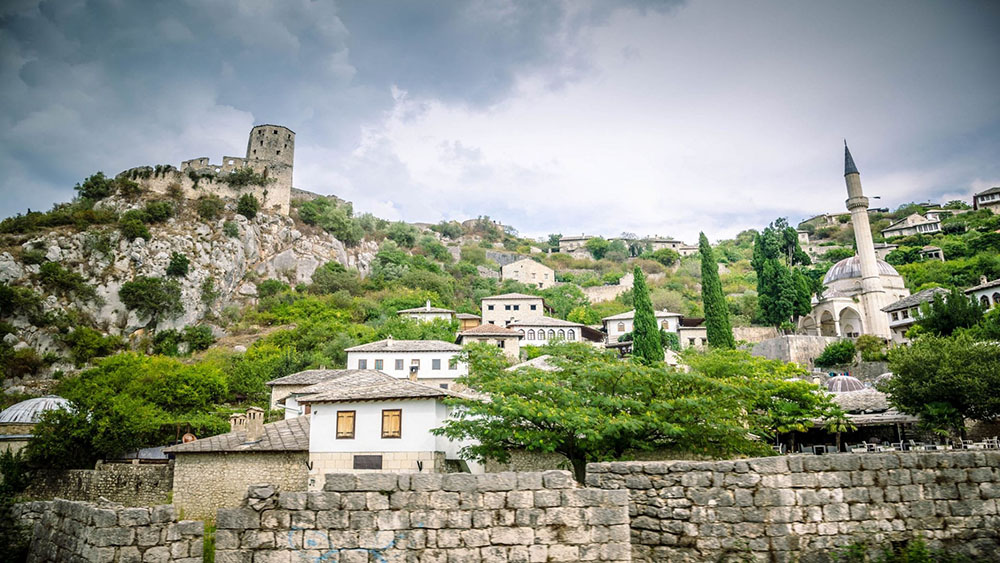 After visiting Hutovo blat and Počitelje, we return to Čapljina on the original Ćira path and drive further towards Dračevo, but on the way out of Čapljina we recommend that you stop in Mogorjelo (Roman VIlla Rustica) and visit this historical destination. From the village of Dračevo, we have two options, one is to continue with the asphalt section (if you are traveling with a road bike), and the other is to turn to the right and go down to the macadam, which is the original Ćira route (recommendation if you are traveling with a Gravel or MTB bike). The first road section has an ascent that is not too difficult, and you join the Ćira railway again in the village of Hutovo. The second macadam section is one of the most beautiful sections and will surely leave you breathless as you cycle along it with a view of the beautiful Svitava Lake that stretches to the left. Also, this section includes crossing the Eiffel Bridge, as well as passing through 10 tunnels that are unlit, so we recommend that you bring a flashlight with you. Also, on this macadam section, which is 18 km long, we do not have sources of drinking water, so we recommend that you buy sufficient quantities of water in the local store located in the village of Dračevo, before entering the macadam.
After the macadam section, we enter the village of Hutovo, from where it is asphalt all the way to Dubrovnik, except for a short macadam section in Ravno, where we again have two asphalt/macadam options to choose from. The section from Hutovo sela to the flat takes us through local villages, most of which are now abandoned, and the rest of the population that lives there is engaged in cattle breeding and agriculture. Arriving in Ravno, we recommend a visit to Motel Stanica, where the Ćira railway station was originally, and today it has been renovated into a motel and restaurant. Here you can refresh yourself and drink coffee. After coffee, we continue towards the town of Zavala, where you can visit the Zavala Monastery, the Vjetrenica Cave or have lunch at the Zavala Inn, which is another Ćira station that has been renovated into a private motel/restaurant.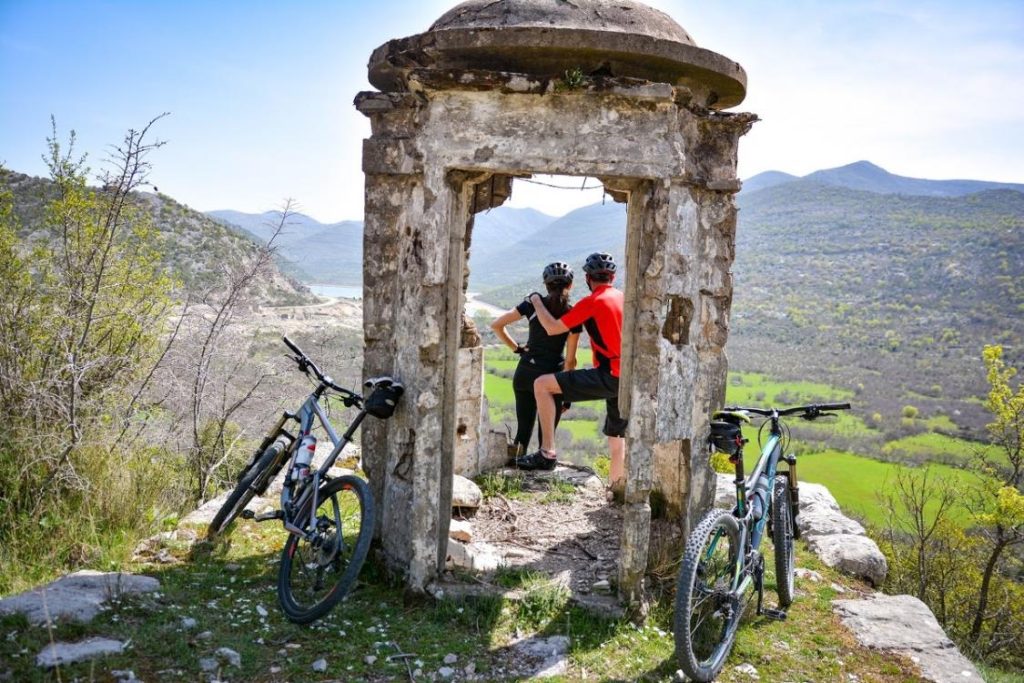 From Zavala, we continue along the asphalt section and local villages that are mostly abandoned, cycling along the beautiful view of Popovo polje all the way to the village of Hum, where Ćira's largest station was. At this point we have a separation to the left towards the City of Trebinje and to the right towards Dubrovnik. Although our GPX record takes us further towards Dubrovnik, we definitely recommend a visit to Trebinje, a beautiful tourist town known for its local cuisine and wine cellars. If you decide to visit Trebinje, we recommend that you contact us for instructions.
From Hum to Trebinje, we drive along a path that does not include local villages and is quite deserted all the way to Duži, where we rejoin the main Trebinje - Dubrovnik road. If 141 km is too much for you to cycle in one day, on our website you can find BikeFriendly facilities where you can spend the night or have lunch.
WHAT TO VISIT
Station Brstanica
Trebinje
GASTRO OFFER
RENT A BIKE
Cross MTB 27.5′ bikes – 10,00 €
CUBE MTB 29′ bikes – 15,00 €
CUBE MTB E-bikes – 25,00 €
CONTACT:
 ☎️ +387 63 400 260 (Viber & WhatsApp available)
📧 visit@herzegovinabike.ba
ERO TRAVEL TURIST AGENCY
For a complete experience and experience of getting to know Bosnia and Herzegovina, we recommend that you contact our partners from ERO Travel tourist agency. ERO Travel is the leading provider of organized active travel in Herzegovina. 10 years of experience and excellent ratings from satisfied users of our services make them the leading provider of active vacations in Herzegovina.
CONTACT:
 ☎️ +387 63 766 160 (Viber & WhatsApp available)
📧 info@ero-travel.com
RECOMMENDATION
Although the trail mostly takes us through populated areas, on the section from Dračevo to Hutovo sela, you drive through an uninhabited area without drinking water, so we recommend that you stock up on a large amount of water in a local store in Dračevo. This is especially important in summer days. On the macadam section, there are sharp stones and the possibility of thorns in some parts, so it is necessary to bring a mini tool and a tool for patching inner tires. Due to the length of the tour, it is recommended to inform family or friends about your cycling plans before going on the ride.
Helmet mandatory!
More information, photos, overview and download of the Ciro Heritage GPX track can be found at HerzegovinaBike web page..