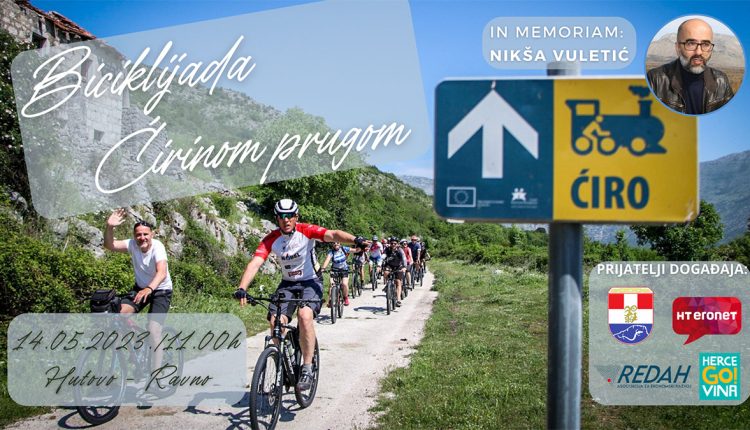 Association "HerzegovinaBike" announces the bicycle race "Ćira's track Hutovo - Ravno (In Memoriam Nikša Vuletić)" which will be held on Sunday, May 14, 2023. starting at 11:00 a.m. in front of the regional school in Hutovo Selo. It is important to say that the bike ride is named and organized in memory of Nikša Vuletić, the director of Spilja Vjetrenica.
The bike event is realized with financial support Općine Ravno, HT Eronet, Turističke Zajednice HNŽ/K i REDAH – Regionalna razvojna agencija za Hercegovinu, and in order to promote "Southern Herzegovina and the Ćiro Narrow Gauge Railway".
The third consecutive Ćira's bike ride in 2023 takes us from the village of Hutova to the municipality of Ravno, along a path 35 km long in one direction, while we will cover some 70 km in both directions. The track is completely flat and lively with beautiful landscapes and an asphalt surface, so it is suitable for all types of bicycles. As we said, this is a very beautiful section, where we meet a large number of Ćira stations, we drive by the reservoir lake with beautiful views of Popovo polje. We end the bike ride in Ravno Municipality, where the hosts have prepared refreshments and lunch for all participants, which is why we need your registrations so we know how many people we should count on for meals. But that's not all! For all of you who want to visit Spilja Vjetrenica before or after lunch, the hosts have decided to offer similar and special prices for all participants of the bike ride.
The return to the village of Hutovo, the starting point of the bike ride, is individual or group, that is, according to personal preferences, because we return the same way we came.
𝐌𝐎𝐑𝐄 𝐈𝐍𝐅𝐎𝐑𝐌𝐀𝐓𝐈𝐎𝐍
Biciklijada starta ispred područne škole u Hutovu selu (START LOCATION LINK), gdje svi sudionici na raspolaganju imaju veliki parking i mogu parkirati svoja vozila, te popiti kavu u lokalnom kafiću prije početka naše biciklijade. Start biciklijade i početak našeg druženja planiran je za 11:00h, a biciklijada ide trasom kuda se u prošlosti kretao Ćiro u dužini 35km od Hutova sela do općine Ravno, odnosno Spilje Vjetrenica za sve one koji odluče posjetiti ovaj veličanstveni spomenik prirode. Bitno je spomenuti da je dionica ravna i nije fizički zahtjevna, a svi sudionici će na raspolaganju imati i kombi vozilo u pratnji u slučaju da im je previše bicikliranja. Također, postoji opcija da kombi vozilo one kojima je 70km previše prebaci od Ravnog do Hutova sela. Sudionici biciklijade će također, na raspolaganju imati 10 volontera, iskusnih biciklista koji će tijekom bicikliranja paziti na sigurnost svih sudionika i pobrinuti za svaku nepredviđenu situaciju, te je ukloniti u najkraćem roku.
The entire route has an asphalted surface on which, in addition to MTB bikes, you can also ride trekking or road bikes. It is suitable for all cyclists, since the route and rhythm of the ride are easy and suitable for the majority.
Volunteers, a service vehicle, photos and video from the bike ride are available to all participants, and they are provided with refreshments, water and first aid in the service vehicle...
𝐇𝐈𝐒𝐓𝐎𝐑𝐘 𝐎𝐅 𝐂𝐈𝐑𝐎
In the past, a narrow-gauge railway with a steam locomotive ran from Mostar along the Neretva River, through Čapljina, Popovo polje, Ravno, and in the town of Hum (the main railway junction) it split into two tracks, where one leads to Trebinje, Trebinje and further to Bileća and Nikšić , and the other branch towards Uskoplje (that is, Zelenica and Dubrovnik). It is important to emphasize that in the town of Uskoplje (2km before Ivanica) we had another junction, where one branch goes to Zelenica (Montenegro), and the other to Dubrovnik (Croatia).
Construction of the railway began in 1898 and ended in 1901. During its existence, Ćiro connected places in Herzegovina and brought them life, and today the railway has been reconstructed into a bicycle path.
TRAIL AVAILABLE ON LINK https://bit.ly/3hdchPN
PLEASE NOTE: The dates of the event are created at the beginning of the year and are of a tentative nature, and depend on several aspects, such as the weather forecast, the calendar of events in the area, etc. In case of bad weather, we will extend the cycling event and send notifications to all interested participants.
Zahvaljujemo se na razumjevanju.