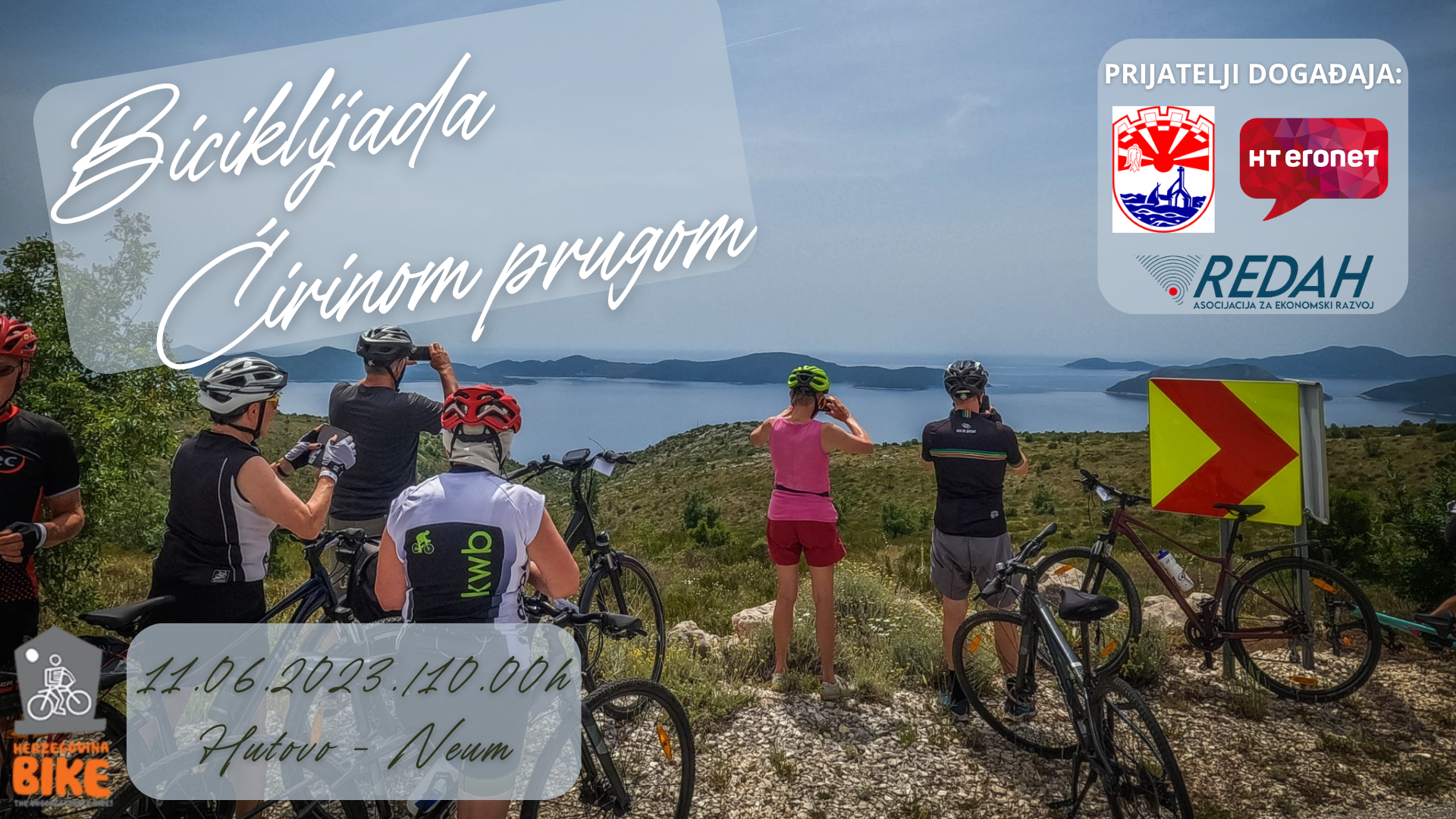 Biciklijada Ćirinom Prugom Neumsko Zaleđe
Udruga "HerzegovinaBike" najavljuje biciklijadu "Ćirinom prugom Neumsko zaleđe (Hutovo – Neum)" which will take place u Sunday 11.6.2023. starting at 10:00AM in front of the district school in Hutovo Selo. It is important to say that this is the first time that the Ćiro bicycle race has been driven through this section, and it is certain that all participants will be delighted. We from the organization are looking forward to this event.
Yes, you read that right, we're taking you to Neum for lunch and swimming!
The bike ride is realized with financial support Općine Neum, HT Eronet i REDAH – Regionalna razvojna agencija za Hercegovinu, a u cilju promocije "Južne Hercegovine i Uskotračne pruge Ćiro".
In 2023, the fourth Ćira bicycle race will take us from the village of Hutova to the municipality of Neum, along a path of 25 km in one direction, while we will cover some 50 km in both directions. This is the first time that the Ćiro bicycle race is organized on this section, and we will drive on the old road towards Neum, which is no longer traffic-free and we find it ideal for cycling. Also, we will be accompanied by a van with groceries and water, and for those who find cycling in both directions too much, there is an option to transfer you to your vehicles in Hutovo Selo after lunch and possible swimming in Neum.
The trail is attractive and lively with beautiful landscapes and an asphalt surface, so it is suitable for all types of bicycles. As we said, this is a very nice section, where we drive through rural areas, visiting villages on the section from Hutovo to Neum. We finish the bike ride in Neum, where the hosts have prepared refreshments and lunch for all participants, which is why we need your registrations so we know how many people we need to count on for meals.
The return to the village of Hutovo, the starting point of the bike ride, is individual or group, that is, according to personal preferences, because we return the same way we came.
MORE INFORMATION
Biciklijada starta ispred područne škole u Hutovu selu (LINK LOKACIJE STARTA), gdje svi sudionici na raspolaganju imaju veliki parking i mogu parkirati svoja vozila, te popiti kavu u lokalnom kafiću prije početka naše biciklijade. Start biciklijade i početak našeg druženja planiran je za 10:00h, a biciklijada ide cestom koja je ranije vodila za Neum u dužini 25km, trenutno je bez prometa i nalazimo je idealom za bicikliranje. Bitno je spomenuti da je dionica atraktivna, sadrži nekoliko kraćih uspona, ali opet nije prezahtjevna, a svi sudionici će na raspolaganju imati i kombi vozilo u pratnji u slučaju da im je previše bicikliranja. Također, postoji opcija da kombi vozilo one kojima je 50km previše bicikliranja da se prebace od Neuma do Hutova sela gdje su im parkirana vozila. Sudionici biciklijade će također, na raspolaganju imati 10 volontera, iskusnih biciklista koji će tijekom bicikliranja paziti na sigurnost svih sudionika i pobrinuti za svaku nepredviđenu situaciju, te je ukloniti u najkraćem roku.
The entire route has an asphalted surface on which, in addition to MTB bikes, you can also ride trekking or road bikes. The driving pace is easy and suitable for most participants.
Volunteers, a service vehicle, photos and video from the bike ride are available to all participants, and they are provided with refreshments, water and first aid in the service vehicle...
HISTORY OF CIRO
In the past, a narrow-gauge railway with a steam locomotive ran from Mostar along the Neretva River, through Čapljina, Popovo polje, Ravno, and in the town of Hum (the main railway junction) it split into two tracks, where one leads to Trebinje, Trebinje and further to Bileća and Nikšić , and the other branch towards Uskoplje (that is, Zelenica and Dubrovnik). It is important to emphasize that in the town of Uskoplje (2km before Ivanica) we had another junction, where one branch goes to Zelenica (Montenegro), and the other to Dubrovnik (Croatia).
Construction of the railway began in 1898 and ended in 1901. During its existence, Ćiro connected places in Herzegovina and brought them life, and today the railway has been reconstructed into a bicycle path.
TRAIL AVAILABLE ON LINK https://www.alltrails.com/explore/map/map-may-9-2023-516b38a?u=m&sh=0zvzk1
PLEASE NOTE: Datumi događaja se kreiraju na početku godine i okvirnog su karaktera, te ovise od više aspekata, poput vremenske prognoze, kalendara događaja u okolici idr… Točan datum događaja potvrdimo mjesec dana prije njegovog održavanja, te kreiramo Facebook događaje i šaljemo obavijesti svim zainteresiranim sudionicima.
Thank you for understanding.