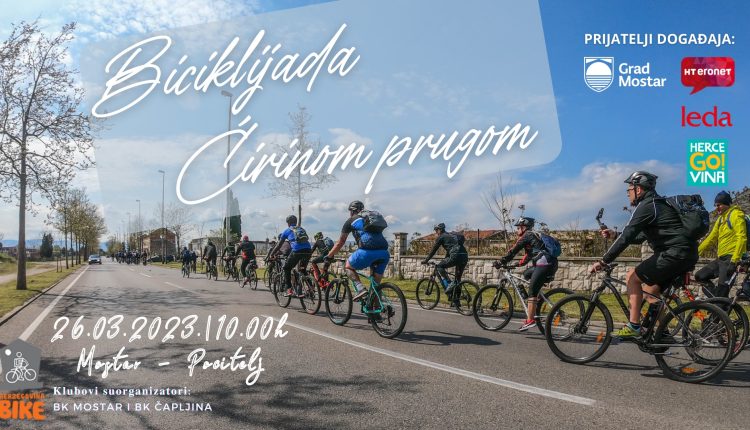 Udruga "HerzegovinaBike" i Biciklistički klub Mostar najavljuju biciklijadu "Ćirinom prugom Mostar-Počitelj" koja će se održati u Nedelju 26.3.2023. sa početkom u 10:00h ispred Trga Hrvatskih velikana (Rondo) u Mostaru. Biciklijada se realizira uz financijsku potporu Turističke Zajednice HNŽ/K, a u cilju promocije "Južne Hercegovine i Uskotračne pruge Ćiro".
Date: March 26, 2022.
Start time: 10:00 am
Trail length: 60 km
Start location: Trg Hrvatske velikana (Rondo)
Organizer: Association HerzegovinaBike
Phone. +38763400260
e-mail: info@herzegovinabike.ba
Facebook događaj: https://fb.me/e/2FWWc0IwI
The historic narrow-gauge railway with a steam locomotive runs from Mostar along the Neretva River, through Čapljina, Popovo polje, Ravno, and near Ivanica, crossing the border with Croatia all the way to Dubrovnik. Construction of the railway began in 1898 and ended in 1901. During its existence, Ćiro connected places in Herzegovina and brought them life, and today the railway has been reconstructed into a bicycle path.
• Ekskurziju započinjemo u Mostaru ispred trga hrvatskih velikana Rondo gdje će Vas dočekati domaćini i objasniti plan biciklističkog događaja. "Ćirina biciklijada" vas vodi kroz Mostar (Stari grad) pokraj čuvenog "Starog mosta", UNESCO-va svjetska baština koji je, kada je izgrađen, bio je najveća lučna konstrukcija na svijetu.
• After taking photos, the bicycle parade continues under police escort towards the Blagaj settlement, where the Bune spring is located, which is the largest karst spring in Europe (Bune spring). Next to it is the famous Sufi tekija, and in its surroundings are the prehistoric site Green Cave, a fish farm and restaurants, and a castle from the 15th century, while in the place itself there are numerous buildings that have been declared a national monument of Bosnia and Herzegovina.
• After visiting Blagaj, the bike ride continues its way towards Buna, after which we continue our way towards Baćevići, driving on the local road through Maloševići, Šurmanci, through beautiful landscapes along the Neretva river all the way to Čapljina.
• From Čapljina, under police escort, we continue the 1km climb towards Počitelji, a populated place that is part of the municipality of Čapljina, and its historical urban center dates back to the 14th century and is a protected national monument of BiH.
• After visiting Počitelje, we descend to the town of Čapljna.
The bike ride follows the route where Ćiro traveled in the past in a length of 35 km from Mostar to Čapljina, or 65 km in both directions. The return is individual. The participants of the cycling event will have at their disposal 8 volunteers, experienced cyclists who will take care of the safety of all participants during cycling and take care of any unforeseen situation, and remove it as soon as possible, as well as a police escort in dangerous places, where vehicle traffic is increased.
The entire route has an asphalted surface on which, in addition to MTB bikes, you can also ride trekking or road bikes. It is suitable for all cyclists, since the route and rhythm of the ride are easy and suitable for the majority.
The registration fee for participation is free, and volunteers, a service vehicle, photos and video from the bike ride are available to all participants, and they are provided with: water and first aid in the service vehicle....
Registration is not mandatory, it is enough just to come to the venue, and we hereby invite all the club's friends, both from BiH and neighboring countries, to attend the cycling event, in order to spend a great day and once again promote cycling in a great light.
More information about the path we cycle on HerzegovinaBike…👇